Premarital Counseling and Couples Therapy serving the Roswell area
Premarital Counseling can help couples prepare for marriage by addressing issues such as communication, expectations, and finances.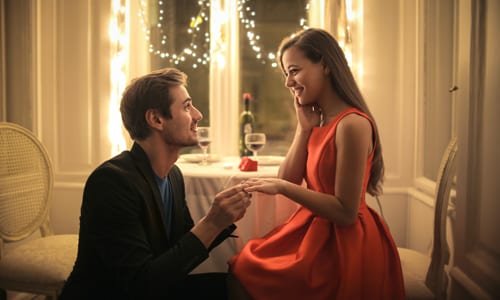 Before you plan for your wedding, plan and prepare for your marriage through Premarital Counseling
Many couples get married before knowing how to ask the right questions.
Take The Love Style Quiz
Premarital counseling is not only a critical step to take but it's a necessary step before a couple commits to their vows. Marriage is the most important relationship you will create. I am confident that you will discover that many aspects of your individual history will show up and be acted out in intensive ways in your future marriage. It is a guarantee!
Months before your wedding and launching your marriage, make sure you invest time, energy and money in the most important relationship in your life. I highly recommend seven to nine months of good premarital counseling, before you say I do.
After the wedding day and the honeymoon, as wonderful as you feel about the one you love, you will face new experiences and unexpected challenges. A practical and common question we get in our office from many engaged couples is that they want to know how long does it take to prepare effectively for marriage. Ms. Savra's perspective and experience is that it takes at least six months of weekly counseling sessions for premarital therapy with a marriage therapist who knows how to facilitate couples, discuss important issues, and know how to ask difficult questions before making a responsible decision for marriage!
Marriage is such an important choice. When two people fall in love while dating, that feeling is so big in the beginning that it can easily overshadow everything. When this is happening, they are not aware of a very important key which will occur throughout their lifetime and that is each person's love style. Many men and women do not know their own love style before getting married. Understanding your love style is important before you say I do. Your attachment style is your love style. Ms. Savra has written detailed blogs explaining these five love styles under the Blog link right above this page.
When marital problems occur, spouses tend to push real problems away, and pretend those problems don't exist. One of the most frequent comments from many married or engaged couples is that when there is a problem in the relationship, there are unspoken thoughts, and assumptions made without knowing how to verbalize these assumptions. They tell themselves "this issue will go away by passing of time", and it's often ignored for a long time. Many couples don't know how to talk through difficult issues in an honest way without reacting to each other or arguing. As a result, there is never a resolution. This must happen before starting a lifetime relationship with your spouse.
Problems or bad habits don't go away by pretending that they are not there nor addressing them. Is this how you want to start your marriage? Is this how you want to live the rest of your life?
If you meet with Ms. Savra regularly, you can learn the right communication and relationship skills to experience true intimacy and a healthy connection with your fiance so that you can prepare for a lifetime marriage.
Do you know how to thoroughly vet your future life partner? Do you have the right skills to determine this?
Have you spent enough time vetting her or him? Are you dating long distance?
Are you making a life-time decision after a short period of time of dating and getting to know each other?
Are you being honest with yourself as you experience red flags in your relationship and your experiences?
Are you taking a good and honest look at yourself and your communication style?
Do you have difficulty saying no to or setting limits with any toxic behaviors?
Are you honest with yourself about your past or your hurts & how that might impact your relationship?
Are you wanting someone just to love?
Do you know how to ask the right questions and know how to have difficult conversations with each other that lead to closeness and connection?
It's hard for many couples to face real problems in their relationships before the wedding date. If you haven't taken the time to understand the root to each of your problems, you will keep feeling frustrated and stay stuck in a vicious cycle of unhealthy communication. If you have any abandonment issues from your past, if you grew up in a home feeling unimportant, invisible or in a chaotic home or had poor modeling by adults around you, it's going be hard to practice the right and healthy relationship skills and communication skills. The change begins when you are willing to take responsibilty for your own pain and grow out of that painful process. Take the time to invest in your future marriage.
Many married couples report that they did not resolve nor knew how to discuss important issues prior to getting married, because they felt anxious nor had the communication skills. The reality is that your relational issues get more challenging after the wedding, and especially after your honeymoon.
Premarital counseling work is the best investment of time energy and money.
Whether you are engaged, or you have been dating long, and you are seriously thinking about getting engaged or married, this page is for you!
When you choose to marry someone that means you are choosing to share yourself completely with that person. While planning for the wedding event might be a huge task and expensive, but when you prepare for a good marriage it is a lifetime journey and much more important.
In today's world with fast-paced tasks and digital devices consuming people's times and lives, many couples believe that living together before getting married will actually help them to ensure a happy or successful marriage or more time to see each or to be with each other. Unforutnately, this is not true, it's a myth. While you might see him every night, our perspective and discovery from meeting with many couples coming in our counseling practice is that living together for months or years prior to the wedding (without a commitment) does not ensure nor guarantee that you will not get divorced. Living together will not prove that a couple will not have serious marital problems!! More than seventy percent of couples who live together prior to getting married result in divorce.
Do you know the key ingredients of a healthy marriage? Take the time to understand and work through your communication problems or any other existing issues that you avoid before the wedding. Jousline Savra can help you to identify those parasites that might be harming your relationship. She will give you the tools and the ingredients of a real type of intimacy instead of an artificial intimacy. Do you know what that looks like?
When two people fall in love, this feeling of being in love is so big in the beginning, he feeling of infatuation overshadows observing or learning the character issues in dating. It's the only thing in the world that matters to the couple so as a result they tend to push real problems away. They pretend that problems don't exist, they ignore issues that create tension, and tell themselves they will go away or I will change that person, marriage will change that person, time will change things, or they don't even want to think about the problems or any challenges between them. They do this because if they face these problems, it might be painful. Many couples say "We Do" and make a lot of serious vows before God, but that does not mean they are emotionally ready for those vows, or that they are developmentally and relationally ready for the vows they make. No matter how serious or sincere couples want to be, they really have to get ready to live those vows. Lots of times couples are not willing to do the hard work, and don't even know how to ask hard questions before marriage. Many couples don't know how to have that difficult conversation about whatever issues they each may be struggling with such as why do I feel this way? Why do I feel angry or anxious?
Your love style will impact everything you do. Love style has to do with the core patterns of your own attachment style. Your attachment plays a huge role in everything you do in the relationship with your spouse. Sometimes the marriage attachment creates a crisis and the person begins to have feelings and he or she wants to run or feels out of control. It's really important to work hard in your relationship prior to your wedding vows. You want to marry someone who is a connector, someone who is able to be emotionally available to you as your go through life and it's challenges. Have you picked a partner who is emotionally available to you? Are you seen and heard and respected in the relationship? Are you hiding from your partner? Do you really know how to be intimate?
When meeting with couples who have been married for many years, when they come in for counseling they often state and acknowledge looking back, that they didn't have the right relationship skills when they were married. Most of their focus, energy, and money was spent on planning their wedding, moreso than preparing for their marital relationship! Their regret is that they wish they had paid serious attention and used their resources to prepare by learning the right relationship skills. Do you have those relationships skills as you begin your life together?
If your relationship has a reached a point that you two are talking about a future life together, as a Marriage and Family Therapist, I highly recommend that you each take the time to take the Love Style Quiz on this website. You will find much clarity into your communication skills and styles.
You are invited to join Jousline in her private practice in Roswell for a few sessions of preventative care. You'll be glad you did! Please take this seriously and call Jousline today. Please do not put off this important step which will impact the rest of your future. Contact her today. If you are serious about good preparation request for an appointment.
*** Jousline Savra ONLY sees clients in the state of Georgia. Licensing Laws forbid Marriage and Family Therapists to practice outside the state in which they are licensed.